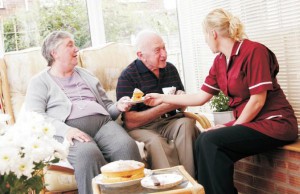 Community Home Care offers a variety of services to our clients and we will work with you to evaluate the level of care that is necessary to improve your loved one's quality of life. Community Home Care is a great way to get the help you need. You may be a senior who needs assistance with activities of daily living, so trust our caregivers to provide:
COMPANION CARE
RESPITE CARE
PERSONAL CARE INCLUDES SHOWERING, DRESSING AND GROOMING
TRANSPORTATION TO MEDICAL OR PERSONAL APPOINTMENT
MEAL AND MENU PLANNING
FEEDING ASSISTANCE
LIGHT HOUSEKEEPING I.E BED MAKING, CHANGING BED LINENS AND TAKING OUT TRASH
MOBILITY ASSISTANCE
BED BOUND ASSIST
MEDICATION REMINDERS
FALL PREVENTION
GROCERY SHOPPING
ALZHEIMERS AND DEMENTIA CARE
AND MORE
We are available to provide services in Assisted living facilities, Nursing homes and in the comfort of your home.